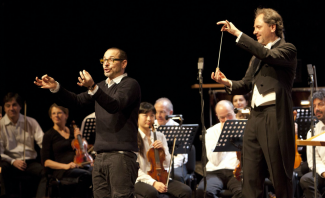 I was born in Milan.
In the eighties I graduated in violin with Osvaldo Scilla, in piano with Anita Porrini and in composition with Carlo Mariani and Giacomo Manzoni at the Milan Conservatory.
In 1996 I started studying conducting with M.W.Chung at the Chigiana Academy of Siena.
I have worked with prestigious orchestras such as Filarmonica della Scala and Orchestra della Scala, orchestras of Italian national theaters such as Massimo of Palermo, Petruzzelli of Bari, Verdi of Trieste, Carlo Felice of Genoa, Regio of Turin, Lirico of Cagliari and international orchestras such as the Royal Philharmonic Orchestra, Simon Bolivar, Tokyo Philharmonic, Tokyo Symphony and the orchestra of the Bolshoi Theater in Moscow.
As ballet conductor, I have directed prestigious stars such as Eleonora Abbagnato, Roberto Bolle, Svetlana Zacharova, Herman Cornejo and Anbeta Toromani in the choreography of Amedeo Amodio and Roland Petit.
In addition to this I worked extensively with the Cameristi della Scala and I collaborated with the orchestra of the Academy of Arts and Crafts of the Teatro alla Scala as assistant to the direction, appointed by Riccardo Muti.
During the staging of Ronconi's Ariadne Auf Naxos at the Teatro alla Scala in 2000, I worked as musical assistant to Giuseppe Sinopoli. In 2011 I was the musical assistant of Valery Gergiev during the production of Puccini's Turandot at La Scala.
Here my full curriculum.